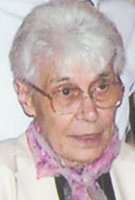 Kate McBride
Kate McBride, 91, of Brookmeade in Rhinebeck, NY passed away Thursday, January 4, 2018.
She was born in Dubrovnik, Croatia May 16, 1926, to the late Pero and Ane (Vodopija) Bule. Kate was a member of the Croatian Partisans during WW II and prior to retirement was a waitress at Bloomingdale's and Penn Station in NYC.
Kate is survived by her husband, William A. McBride, Jr. of Brookmeade in Rhinebeck; children, Kathy and Wayne Closi and Mike and Pat Harrison; nephews, Pero & Ella Bule and son Dominick and Pero & Marinka Bule.
The family will receive friends at the Henry J. Bruck Funeral Home, 261 Broadway, Kingston, NY on Sunday between 3:00 and 6:00 pm. Funeral procession will form 9:00am Monday at the funeral home then proceed to St. Colman Church, East Kingston where at 10:00 am a Mass of Christian Burial will be sung. Entombment at Wiltwyck Cemetery mausoleum to follow.