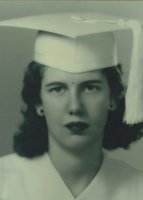 Marjorie Frederick
Marjorie Frederick, 86, of Ulster Park, NY, passed away Thursday, August 24, 2017 at Golden Hill Nursing Home.
She was born April 5, 1931 in Russia, NY to the late Percy and Amy (Walker) Richardson.
Marjorie was a graduate of Albany Business College and had been a medical transcriptionist at Saratoga Hospital and Great Meadows Correction Facility and a telephone operator for General Telephone. She was a past president of the Chestertown PTA and a member of the Ladies Auxiliary of the Chestertown American Legion.
She is survived by her children, Debbie Baily (Art) of Wurtsboro, NY, Chester Frederick of Saratoga, NY, Phillip Frederick of Ulster Park, NY and Arlene Burhans
of Kingston, NY; Grandchildren, Jessica Travers, Keith Travers, Jeffrey (Megan) Travers and David Frederick; 9 Great Grandchildren.
She was preceded in death by her husband, Eugene Frederick, son-in-law, Thomas Burhans and grandson, Gregory Burhans.
"A special thanks to Maria for her loving care to our Mother".
Visitation will be held on Monday between 5:00 and 7:00 pm at the Henry J. Bruck Funeral Home, 261 Broadway, Kingston, NY.
A Memorial Service will be held on Tuesday at 11:00 am from the Immanuel Evangelical Lutheran Church, 22 Livingston St., Kingston, NY.