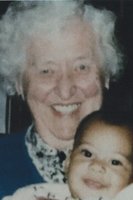 Kerttu Kay Barnett
On April 25, 2018 Kerttu Kay Raty Barnett left us. She was 94 and had been living at the Baptist Home in Rhinebeck, NY. A native of Finland, daughter of the late Mikko and Martta Malm Raty, she became a refugee from Karelia, in southern Finland when the Russian army invaded and annexed the region. She lost her beloved brother Pentti in that war. That experience made her a life-long pacifist. She emigrated to the U.S. in 1957 after meeting Abe Bojarsky at Pendle Hill, a Quaker retreat center. They were married and had two children, Paula Bojarsky Scholl (married to William Scholl) of Olivebridge, N.Y. and Mikko Bojarsky (married to Antje Bojarsky) of Santa Rosa, CA.
Kerttu became a lifelong member of the New Paltz Friends Meeting and was an activist for peace, social justice and environmental stewardship. Her connection to Quakerism started when, as a refugee herself, she got a job as a social director at a settlement house in Sortavaia, Finland run by the Friends Service Committee.
Kerttu got a master's degree in education in Finland and In social work in the U>S> She worked as an outreach worker for the Ulster County Office for the Aging.
She was remarried after Abe's death to the late Irving Barnett and became a "step-in-mother" to his daughters Elisabeth Barnett Allanbrook of Rhinebeck and N>Y>C., Sarah van Gelder of Poulsbo, WA, Jane Hylton Barnett of Seattle, WA and the late Anna Sue Walaiti, formerly of Great Falls, MT. She joyfully shared in grandparenting their children Cristina Turino, Mathew Turino, Martha van Gelder, Alex van Gelder, Simone Close and Catherine Hylton as well as Benjamin Scholl. She was very proud of her great-grandson Carter. She has a niece, Heli Raty and three nephews Markku, Teuvo and Esko Raty in Helsinki, Finland, the children of her late brother Unto Raty and his wife Ritva Raty, as well as many grand nieces and nephews. She was a proud Finn, loved the ancient literature of Finland and maintained dual citizenship in both Finland and the U.S.
An avid photographer and traveles, she and Irving traveled widely, and lived and taught in Beijing, China for 12 years. Her photographs of life in the United States were a favorite of her students in Beijing, and her photographs of Beijing gave American audiences a glimpse of life in China shortly after it opened to the outside world. Her storytelling delighted her grandchildren and friends.
She practiced Tai Chi with a group of Chinese women in Beijing, not allowing the language barrier to interfere with the deep friendships she developed with them. She also studied Qi Gong.
A Memorial service will be held this summer. Contributions should be made in her name to the New Paltz Religious Society of Friends, North Manheim Boulevard, New Paltz, NY 12561.