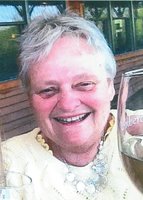 Clare A. Bruck
Clare A. Bruck, 73, of Port Ewen, formerly of Clifton Avenue in Kingston, passed away suddenly Saturday, July 14, 2018 at HealthAlliance Hospital Broadway Campus in Kingston, NY.
Born in Kingston, NY she was the daughter of the late Vernon F. and Dorothy E. Prosser. In addition to her parents, she was preceded in death by her husband, John F. Bruck, Sr. whom she married September 19, 1964 and sons, William J. and John F. Bruck, Jr.
Clare retired as a clerk from the Kingston Area Library.
Our Mother was always happiest when she was on the go. "The busier the better", she always said," it's good to be busy". Whether she was out shopping, going to plays or the movies, heading to bible study, an Immaculate Conception Rosary meeting, going to sew-sew sewing club, enjoying an evening with her friends at Bessie's Raiders, working at the election poles or volunteering at the Hudson Valley Senior Residence where she had served as a board member, she was happy just to be out and about. Usually they say "Rest in Peace" but she would not want to rest, not her, so to our Mom we say, "Go In Peace Mom, you Go!!"
Clare is survived by a daughter, Heidi C. (Garth) Allred of Ulster Park; a son Timothy J. (Susan) Bruck of Accord; daughter-in-law, Lisa M. Bruck of Kingston;
Sister-in-law, Margaret "Peggy" (William) Harder of Hurley; brother-in-law, James J. (Rose) Bruck of Kingston; her cherished grandchildren, Beth Allred, Liam Allred, Timothy J. Bruck, Jr., Samantha Bruck and Taylor John Bruck who she was so proud of as they truly meant the world to her. Nieces, nephews and cousins also survive.
Friends and relatives will be received 2-4 and 7-9 on Wednesday at the Henry J. Bruck Funeral Home, 261 Broadway, Kingston, NY. Funeral procession will form 9:15 am Thursday at the funeral home thence proceed to St. Peter's Church where at 10:00 am a Mass of Christian Burial will be sung. Burial to follow in St. Peter's Cemetery.