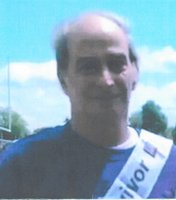 Robert V. Decker
Robert V. Decker, 70, of Lake Katrine passed away Tuesday evening, December 11, 2018 at HealthAllince Hospital, Broadway Campus in Kingston, NY.
Born in Kingston, he was a son of the late Harvey W. and Lillian Decker.
Bob enjoyed golfing and prior to retirement, Bob was in charge of maintenance for Yosman Towers in Kingston.
Survivors include his wife, the former Margaret "Peggy" Miller; a son, Scott Decker of Kingston; a daughter, Kari Wendt of Lake Katrine; grandchildren, Tyler & Kristopher Wendt of Lake Katrine and Jaxson Decker of Kingston; a brother, Wayne Decker of Kingston.
The family will receive friends at the Henry J. Bruck Funeral Home, 261 Broadway, Kingston, NY on Sunday from 2:00-5:00 pm followed by his funeral service at 5:00 pm. Cremation and burial will be private.
In lieu of flowers the family suggests donations be made to St. Jude Children's Research Hospital, PO Box 1000 Dept. 142, Memphis TN 38101-9908.