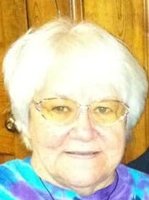 Margaret Mary Gaul
Margaret Mary Gaul, 76, of New Salem Road in the Town of Esopus passed away
Sunday, September 8, 2019 at Northern Dutchess Hospital.
Margaret was born in Saugerties, NY to the late Leighton and Elinor Myer.
She was married to Michael (Mickey) T. Gaul, Jr and together they raised three sons, Robert of Sawkill, NY, Michael of Jacksonville, FL and Mark of Kingston, NY.
In addition to her husband and sons, she is survived by brothers and sisters, Diane Tummillo, Donna O'Rourke, Bonnie Myer, Joseph Myer, Robert Myer and Brian Myer; grandchildren, Andrew Gaul, Justin Gaul and Christopher Gaul; great grandchildren, Sophia, Dylan, Charlotte, Gabby and Lindsey.
Margaret was also preceded in death by brothers Donald "Butch" and Dennis "Dit" Myer.
In lieu of flowers the family suggeests a gift in Margaret's memory be made to St. Jude Children's Research Hospital (Memorials Processing) 501 St. Jude Place, Memphis, TN 38105-9959
Private burial in St. Anne's Cemetery at the convenience of the family will be under the direction of Henry J .Bruck Funeral Home, 261 Broadway, Kingston. NY.