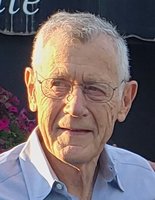 Avery Leete Smith
Dr. Avery Leete Smith died on Wednesday, October 16, 2019. He was born December 6, 1938 to Robert Avery Smith and Bernice Minor Leete Smith in West Hartford, CT. The family moved to Rockingham, VT while Avery was in his early teens. After attending Bellows Falls High School, he received his Bachelor of Science from the University of Vermont in 1960 and Doctor of Veterinary Medicine from Cornell University in 1964. Avery moved to Kingston in 1965 and practiced as an associate with the Hoppenstedt Animal Hospital in Rosendale before establishing the Hurley Veterinary Hospital in 1980. "Retiring" in 2000, he continued to practice part-time for local animal welfare organizations until 2016. Avery was a lifetime member of the American Veterinary Medical Association, the New York State Veterinary Medical Society, and the Hudson Valley Veterinary Medical Society.
In his personal life, Avery was an endurance athlete, outdoorsman, and self-taught naturalist and preservationist with a lifetime curiosity and passion for early American art and antiquities. Avery was an active member and former President of Friends of Historic Kingston and a member of the Kingston Academy Board of Trustees.
Avery is survived by his wife, Marystephanie Corsones of Kingston, NY, his brothers Alcott Leete Smith of Hanover, NH, and Preston Leete Smith of Fort Lauderdale, FL, his sons Barrett Leete Smith and his wife Susan Aaron of Providence, RI and Carter Leete Smith and his wife Jennifer of Ambler, PA, and his granddaughter, Clara Leete Smith.
In lieu of flowers, donations may be made to Friends of Historic Kingston, PO Box 3763, Kingston, NY 12402. The timing and venue of a public memorial service will be announced at a later date.
Please leave an expression of sympathy for his family.