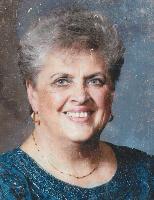 Barbara M. Keating
Barbara M. Keating, 78, of Kingston, NY, passed away peacefully at home, on Saturday, April 29, 2017 with family and friends by her side.
Born in Kingston, November 28, 1938, she was a daughter of the late Donald J. and Agnes R. (Amarello) Keyser.
Barbara was a member of the CSEA and prior to retirement worked at the Ulster Co Dept. of Social Services. She had been an active member of the former St. Peter's Christian Mothers Club, coached for the Metropolitan Knot Hole League, was a member of the Hoe Bowl Women's Bowling League and KWBA.
Barbara is survived by her daughter, Barbara Jean Cusher who was also her caregiver; three sons, Donald M. Keating (Jane) and Timothy P. Keating (Joan) of Kingston and Leo F. Keating of Nantucket, MA; two sisters, Ann (Glenn) Debrosky of High Falls and Donna (W. Donald) Spada of Kingston; best friend, Sally Southwick of Kingston; 7 Grandchildren, 1 Great Grandchild, several nieces and nephews.
Barbara was preceded in death by her husband, Leo M. Keating and her brother Neil M. Keyser.
Family and Friends may call at the Henry J. Bruck Funeral Home, 261 Broadway, Kingston, NY
on Tuesday from 5:00 - 8:00 pm. Funeral procession will form at the funeral home on Wednesday at 9:00 am thence proceed to St. Mary's Church where at 10:00 am a Mass of Christian Burial will be sung. Burial to follow in Montrepose Cemetery. In lieu of flowers the family suggests donations be made in Barbara's name to Hospice, 400 Aaron Court, Kingston, NY 12401. To leave a message of condolence for Barbara's family please visit www.henryjbruckfuneralhome.com.