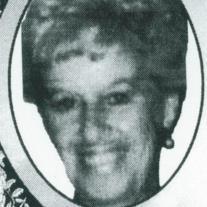 Share Your Memory of
Anne
Obituary of Anne Elizabeth Sickler
Anne Elizabeth Sickler, 88, formerly of Kingston, NY died Saturday, October 11, 2014 at the Wesley Nursing Home in Saratoga Springs, NY after a short illness. She passed peacefully surrounded by her loving family. Born December 9, 1925 in Kingston, Anne was the youngest of seven children born to the late Charles P. and Matilda Wohlfiel Donnaruma. Anne graduated from Kingston High School in June 1943. She was the school's May Queen and served as vice president of the student council. She married the late Leonard Sickler, Jr. on October 14, 1951 at St. Peter's Parish in Kingston. Married for 52 years, Anne lovingly raised three sons while assisting her husband and his family in the operation of Sticklers' Delivery Service in Kingston. She also worked in retail sales and as an executive clerk in Uptown Kingston. Anne was a devout parishioner of St. Peter's Parish, a champion bowler and loving wife, mother, grandmother and great-grandmother. After her husband Leonard's passing in 2003, she stayed active in the Lipton Street area community where she lived for nearly six decades. She moved to the Saratoga Springs region in 2010. Survivors include three sons and a daughter-in-law. Mark Q. Sickler and Mary Kearney-Sickler of Malta, NY, Joel A. Sickler of Alexandria, VA and Noel F. Sickler of Rehobeth, DE. six granddaughters, a grandson, a great-granddaughter and numerous nieces and nephews. Also, Mr. and Mrs. Herman Sickler of St. Augustine, FL. Anne was preceded in death by her brothers, Walter, Charles and Robert Donnaruma and sisters, Florence VanWert, Dorothy Fidow and Virginia Donnaruma. Private memorials are being planned by the family. Those who desire to make a memorial donation in memory of Anne E. Sickler are welcome to do so. Anne would be so gratified and pleased if donations were made in her name to St. Peter's Parish. St. Peter's Parish was established in 1858 by German immigrants and continues to serve an immigrant population today. Anne participated in the church's sesquicentennial celebration in 2008. The family would be grateful to have the parish receive support in her name. Masses are being requested and celebrated at St. Peter's on her behalf. Any donations may be sent to St. Peter's Church, 9 Wurts St., Kingston, NY 12401. Checks should be made payable to St. Peter's and a note indicating they are in memory of Anne E. Sickler. A Mass of Christina Burial will be offered, Tuesday, at St. Peter's Church, 9 Wurts St., Kingston, NY at 12:00 noon. Burial will be in St. Peter's Parish Cemetery in Kingston. Local arrangements are being handled by the Henry J. Bruck Funeral Home, Inc., 261 Broadway, Kingston, NY.
Church
DEC 9 St. Peter's Church 93 Wurts Street Kingston, NY, US, 12401
Interment
St. Peter's Parish Cemetery Pine Grove Avenue Kingston, NY, 12401
Henry J Bruck Funeral Home, Inc.- Serving Kingston & Surrounding Communities since 1932.