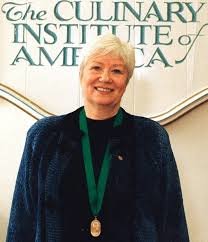 Obituary of Irena Chalmers
IRENA CHALMERS, 1935–2020 Irena Chalmers, a former faculty member and great friend to the Culinary Institute of America (CIA) and its students, passed away at her home on April 4, 2020. The cause of death was esophageal cancer, her daughter, Hilary Chalmers, reported. Irena Chalmers was 84 years old. Chalmers taught Professional Food Writing, Food Jobs, and Gastronomy at the CIA for more than 16 years. Author of the award-winning Food Jobs, Great Food Jobs 2, and The Great Food Almanac, she was recognized as the pioneer of the single subject cookbook. Famed restaurant critic and food writer, Gael Greene named Chalmers "the culinary oracle of 100 cookbooks." Chalmers's many books, spanning over a 40-year career, sold over 18 million copies worldwide. Her first cookbooks focused primarily on what to make with the newest, latest piece of cooking equipment, starting with the fondue pot in 1968. Her first cookbook was Fondue Cook-In. As the New York Times reported, "Home cooks found her short single subject books a welcome alternative to the big compendiums of time-consuming recipes that were popular at the time. Her cooking philosophy was if one could cook a soup, one could make a sauce or cook a stew just as easily. It was simply a matter of addition or subtraction of ingredients." Chalmers later would be commissioned to write the cookbooks that came with the first Litton Microwave Oven, Donvier's Ice Cream Machine, Donvier's Yogurt Maker, even the first Cuisinart food processor for the American market among others. Chalmers enjoyed a long and prolific career in the food industry. She was a columnist for such prominent publications as Chef, Food Arts, Food & Wine, Gastronomica, the New York Times, Modern Maturity (today AARP), Cook's Illustrated, and Nation's Restaurant News. She also served as a consultant for The Rainbow Room and Windows on the World in New York City, and was a speech writer for world-renowned restaurateur Joe Baum. A founding member and past president of the International Association of Culinary Professionals (IACP), Chalmers was also a member of Les Dames d'Escoffier. Her many awards included the Julia Child Cookbook Award: Food Reference/Technical Category (1994) for The Great Food Almanac; Best Book in the World for Food Professionals (2008) for Food Jobs, and A Special Award of the Jury (2013) for Great Food Jobs 2 by the Gourmand World Cookbook Awards Committee; as well as 11 other Julia Child Cookbook Awards. In 1988, she was inducted into the first James Beard Foundation's Who's Who of Food and Beverage in America. As the New York Times reported, Chalmers, known for her wit, was quick to throw out a clever comment and was never shy about offering her clear-eyed assessment of the food world. She became a popular lecturer and advisor to New York's professional cooking community, which formed the foundation for a proliferation of cooking media and regional American restaurants in the 1980s and 1990s. When Christopher Kimball was considering starting his first magazine, Cook's Illustrated, in the 1980, he sought Chalmers' advice. "She was the first person to really make the case that there was going to be a huge revolution in American food and restaurants, and we are going to focus on our cooking and own ingredients," he said. "She was very smart about the future." Chalmers could be known for taking a contrarian view of trends. "I think insisting on having a free-range chicken, she often said, "is like having a free-range boyfriend. You never know where he's been." Irena Chalmers-Taylor was born in London on June 5, 1935, to William and Alys Chalmers-Taylor. She became a midwife and a nurse after her father discouraged her from studying to be a doctor. She was educated at the private Haberdasher's Aske's School for Girls outside London, received a midwife's certificate at a maternity hospital and completed a year-long program at the National Hospital for Neurology and Neurosurgery in London. After completing graduate work at the Neurological Institute in Queens Square, London, she headed for New York in 1959 with a contract to teach at the Neurological Institute of New York, part of Columbia-Presbyterian Hospital. On the day she arrived in New York City, she met Fredric D. Kirshman. They married and had two children. The two would later divorce 11 years later after Chalmers completed her brief culinary training at the Cordon Bleu London. Chalmers spent the last 16 years of her culinary career teaching at the CIA in Hyde Park. N.Y. There, she continued to champion and mentor women in the culinary fields. "I get an enormous amount of satisfaction and pleasure from teaching at the CIA," she would say during her time at the college. "The school has become the center of my universe." She retired from teaching in 2015. Though never one to sit still for long, Chalmers soon after began working on her memoir, Spilling the Beans. She was still working on it at the time of her passing. Chalmers is survived by a daughter, Hilary Chalmers, and a son, Philip Kirshman, and his wife, Emiko Kirshman. Donations in Irena Chalmers's memory can be made to the local food bank; Meals on Wheels www.mealsonwheelsamerica.org/take-action/donate/individual-giving; in support of student scholarships at the Culinary Institute of America online at www.ciagiving.org: the American Nurses Association (ANA); or https://www.arts.gov/covid-19-resources-for-artists-and-arts-organizations. The date for a memorial celebration is pending the end of the CORONAVID-19. In lieu of an immediate memorial, family and friends, colleagues and acquaintances are asked to raise a glass and make a toast in Irena Chalmers' honor, then email a photo of their effort to Chalmers' daughter, Hilary Chalmers, at hilarychalmers@hotmail.com with the subject line: A Toast to Irena. Toast celebrants should include: their name or names, the name of the drink they toasted with, the location of the toast, and the words of the toast given. The resulting photos will mark a celebration of their connection to Chalmers and will be compiled in a shared photo essay.
Memorial Celebration
The date for a memorial celebration is pending the end of the CORONAVID-19
Henry J Bruck Funeral Home, Inc.- Serving Kingston & Surrounding Communities since 1932.